Sponge graduation-nail art
Presentation of a Nail Art a gradient with a sponge. In this blog, your expert nail supplier Maryton will present and detail the steps of the realization of a gradient with the sponge on your nails.
Making a sponge graduation with three colors
Are you tired of uniform colors on your nails, do you want to add a more personal touch to your manicure? Opt for the gradient sponge! Simple to make, you will get a different and elegant result in just a few moments.
For example, we have chosen the following colors: yellow, orange and red. Our goal is to obtain a gradient in the colors of a sunset. Here are the essential steps to achieve this gradient: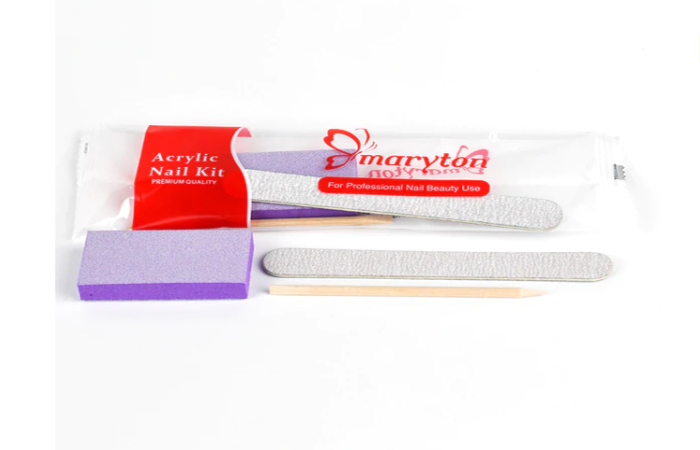 Prep your nails with the lightest color nail polish.
Then, you have two possibilities starting from a support or working the gradient directly from the sponge.
For the first option, on a clean and smooth surface, make two thick lines of varnish with the colors you have selected.
The ideal is to do it with close colors. We decided to make the gradation directly on the sponge so we will apply the nail polish in the same way but directly on the sponge.
Then lightly mix the places of junction between the two colors with a dotting tool between the yellow and the orange and between the orange and the red.
For users of the support, tap your sponge in the varnish. Then, press the sponge on your nail several times in order to have a nice fade.
Then, gently clean the places or the sponge to overflow on the finger using a cotton swab soaked in solvent.
Don't forget to cover your gradient with a top coat, this will protect it and make it last over time.
Hoping that you liked this Nail Art tutorial and that you will do it at home! In addition to these, I advise you to invest in a complete manicure supply! To help you in your choice, I invite you to visit our website.
Read also: Which Wedding Manicure To Choose?