5 things to know about semi-permanent varnish
What could be more frustrating than seeing your beautiful nail polish chipping just a few hours after applying it? The semi-permanent varnish is the solution: it offers a colorful and shiny manicure for 2 weeks. But before starting, it is better to know these 5 useful things.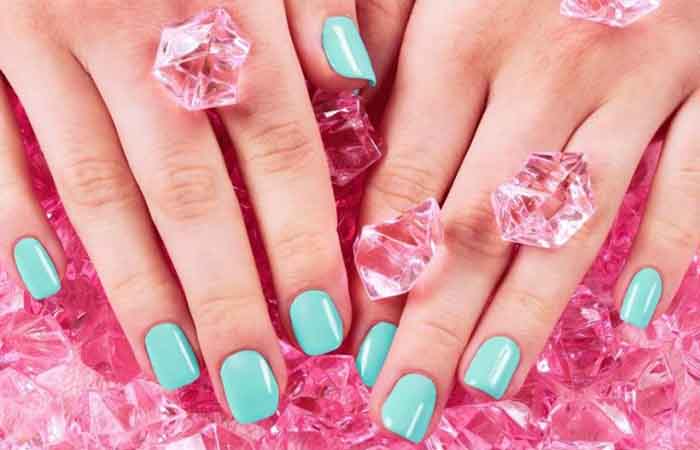 What is semi-permanent varnish?
The semi-permanent varnish does not really have the texture of a varnish, but rather that of a pigmented acrylic gel. With a semi-permanent varnish, you are guaranteed to have scale-free nails for about two weeks. There's no longer any need to be too careful looking for your keys in your handbag, doing the dishes or doing DIY: the semi-permanent varnish is resistant to all shocks.
How is the semi-permanent varnish applied?
The first step is to perform a manicure to ensure that you have well-defined, smooth nails without cuticles. Once the nails are ready, they will receive 4 coats of varnish. The first layer is a base to protect the nails and ensure that the varnish lasts for a long time. The next two layers are those of the semi-permanent varnish itself. Finally, the fourth layer is the top coat to protect the varnish and prevents it from flaking too quickly. Between each layer application, the nails are positioned under a UV lamp in order to dry them for 30 seconds. As soon as the last layer is dry, the varnish is operational and won't deteriorate for several days. There are professional manicure kits to do your own semi-permanent manicure at home.
Nails and semi-permanent: how is it removed?
To remove semi-permanent nail polish, it's not as simple as a classic nail polish. In the institute, the beautician will first protect the skin around the nails by applying an oil. She will polish the surface of the nails and wrap them each with cotton soaked in acetone and aluminum foil. You have to wait about a quarter of an hour for the semi-permanent varnish to come off without forcing.
Long-lasting varnish: frequency of use
Indeed, it is not recommended to abuse the semi-permanent varnish, otherwise the nails no longer see the sunlight and suffocate under the layers of varnish. They may yellow, split or become soft. But to avoid this, just practice the semi-permanent varnish in a reasonable way: it is good to leave the nails natural for a few days, even a few weeks, before reproducing a semi-permanent varnish application session.
Bonus info on semi-permanent varnish
There are as many colors in semi-permanent varnish as in classic nail varnish. It is even quite possible to perform nail art. If you bite your nails, the semi-permanent manicure is not recommended. This could damage them and weaken them even more.
As shown above, applying the semi-permanent is really simple, in fact, it only takes a few steps for an impeccable result. I think the time has come to say goodbye. If you want to know more about nail beauty, please take a look at our website, just click here!