How to make mirror nails?
Whether you have short or long nails, square, almond or stiletto, you can show off your mirror nails without any problem. Mirror nail is a type of nail look that is really good for everyone, you just have to have the courage to dare because you will certainly not go unnoticed.
Mirror nail art involves the application of special, highly shiny and hyper-reflective metallic effect enamels, just like a mirror. The most in vogue are certainly the silver color, the gold color and the gold rose, even if we can find metal enamels in a thousand other colors to match our outfits and mood.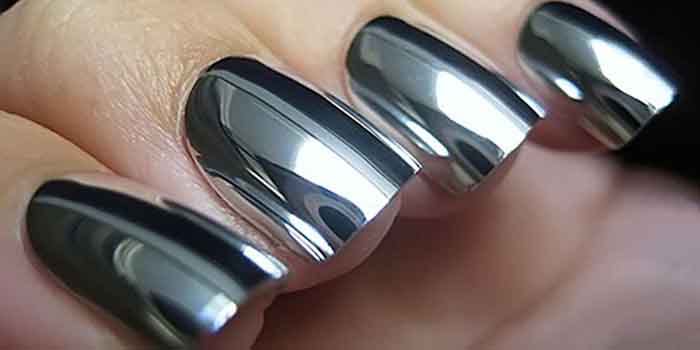 The first step is always the application of the base. We can choose use a classic nail polish, a semi-permanent nail polish or a gel polish in relation to the duration, the result we want to obtain and also need to lengthen or reconstruct the nail. If you decide to use the semi-permanent polish, you will necessarily have to follow all the steps necessary for the enamel polymerization. 
The second step is to apply the colored enamel, it is better to use a very dark color such as black or midnight blue. In fact, using a light base you will get a chrome effect but not a mirror one. For a better result, apply two coats of dark nail polish for greater definition. When this layer of nail polish is perfectly dried, all you have to do is apply the sealant to fix the color and protect the nail. If you have chosen the classic nail polish, you will only have to let it dry perfectly avoiding any contact.
Then degrease your nails with a cotton pad soaked in the cleanser and proceed with the last steps. This is the topical moment for creating the mirror effect, because it involves the use of special powders to be applied to the nail with a special brush.  The brush should be completely immersed in the metal powder and then rubbed on the nail with rapid circular movements. As you proceed with the application of the metal powder, the nail will become more and more shiny, metallic and reflective.
What are you waiting for? you just have to give vent to your imagination and your creativity. Hoping to have been helpful. If you want to know more about nails supply, please take a look at our Maryton website. As usual, I wish see you in the next article!
Read also:The Things about Russian Manicure