Padmate PaMu Slide and PaMu Tempo T5 Wireless Earphones
From year to year, Padmate is carving out an increasingly important role in the panorama of wireless earphones, the result of considerable design and marketing work, followed by successful crowdfunding campaigns on Indiegogo. The success of the Chinese company was built on the basis of feedback received from users who have made it possible to improve and complete their products. After the Pamu Scroll seen last April , on the occasion of CES Asia 2019, the Chinese company has released the new Pamu Tempo T5 and Pamu Slide , both with a Qualcomm aptX chip which, in addition to improving the sound quality, significantly extends autonomy.
The Padmate Tempo T5 are an absolute preview and represent the evolution of a model already marketed by Padmate: the Padmate Tempo T5. They are designed to adhere perfectly to the ear offering greater comfort, even after hours of use. According to the company's estimates, the adoption of the aforementioned Qualcomm chip has made it possible to extend the autonomy from 21 to 25 hours – including all charging cycles of the powerbank case – while maintaining a battery of the same capacity: 1000 mAh for the case and 55 mAh for each of the two earphones .
We also find Bluetooth 5.0 , 6 mm dynamic driver, touch controls, IPX6 certification of water resistance and automatic coupling to extraction from the case is supported. The Pamu Tempo T5 will be marketed in Bay Blue and Moonbeam colors.
You have already heard of the Pamu Slides because they have achieved considerable success on Indiegogo thanks to the support of over 20,000 supporters and the raising of $1 million and $ 400 thousand against the initial target of just over $20,000. Their name derives from the case that has a sliding opening in discontinuity with past generations. They are larger in size and protrude from the Apple AirPods-style ear to provide significantly better sound quality and integrate a microphone with ambient noise cancellation .
The case has a capacity of 2000 mAh, has LED indicators that show the status of the battery and quickly recharges via USB-C input. It should allow you to enjoy a total of 60 hours of music playback (including all charging cycles) thanks to the support of the Qualcomm aptX chip. With a single charge, however, the autonomy is still very high: 10 hours . Also on the Pamu Slide we find Bluetooth 5.0 , touch controls, IPX6 certification of water resistance and they are automatically combined with the extraction from the case.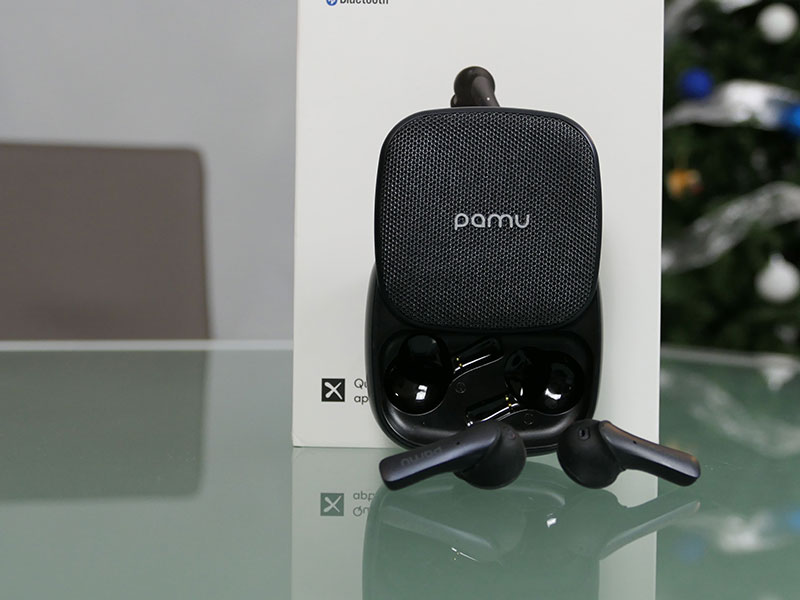 There are still a few weeks to go until the Indiegogo campaign ends and early bird expeditions will begin. If you are interested, you can buy them at a price of 69 dollars in the variant with integrated wireless charger for smartphones or in the basic variant from 49 dollars. You can find them in black, green and white.