10 Hours Playtime + IPX6 + APTX TWS Headphones PaMu Slide
PaMu Slide is a complete wireless earphone that condenses the advanced technology of Padmate, which aims to be the world's top audio product. Designed based on ergonomics so that it is hard to fall off your ears, it is ideal for sports with outstanding fit and IPX 6 waterproof performance. The smart sliding charging case also has a wireless charging battery function, so you can easily charge your smartphone wirelessly in an emergency.
Equipped with QUALCOMM's new TWS earphone chip QCC3020, it is possible to receive strong signals over a wide range. In addition, it supports both high-quality AAC and aptX codecs, so you can enjoy great music without any loss of sound. PaMu Slide's development team worked with Qualcomm's engineers to improve the performance of the earphones, resulting in a more complete earphone development.
LDS antenna (Laser Direct Structuring Antenna) is an antenna technology with excellent communication sensitivity and stability mainly used for smartphone antennas. This time, stable communication has been enabled by using an LDS antenna to connect the Bluetooth device and the earphone.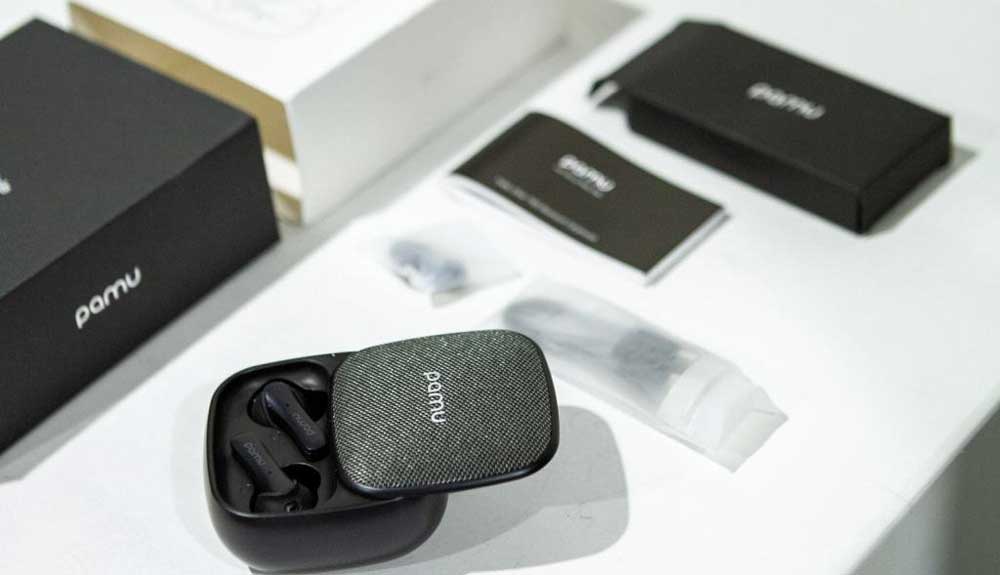 Equipped with 6 micron diaphragm, natural and rich sound quality
The 6-micron diaphragm mounted on PaMu Slide is designed to improve sound resolution and reduce sound distortion. As a result, you can experience natural and detailed sound quality. Designed to fit without falling even in intense movement.
Ergonomic Design
The padmate pamu slide fit running, jumpping and do not fall off your ears in any movement. Unlike general canal type earphones, the part to be inserted in the ear is designed as an elliptical shape that is long vertically. And it is set in a slightly lowered position, not in the middle of the head. When the earphone is inserted into the ear, it fits smoothly and gives an outstanding sense of stability. You can use it safely even in the city or on the train.
Silicone cap increases fit and protects the earphone body from scratches
In addition, we adopt silicon cap outside of Earphone and are designed delicately while design characteristics do not fall while protecting Earphone body from wound.
PaMu Slide has six eartips specially designed from S to L + to fit any ear to satisfy many people. You can enjoy the music without leaving during running or rock climbing.
IPX6 waterproof
With IPX6 waterproof performance, it prevents sweat, rain, and splashes. Please enjoy running and sports with confidence.
10 hours playback, 60 hours playback with charging case
Up to 10 hours of music playback and phone calls are possible if the earphone is fully charged once. The charging case has a large capacity of 2000mAh. As we can charge Earphone about five times, we can use for up to approximately 60 hours.
The charging case is equipped with the next-generation USB standard "USB Type-C" connector. The earphones are compatible with fast charging, so you can play music and talk for more than an hour with only 10 minutes of charging.
The dual microphone noise reduction technology reduces ambient noise, allowing you to enjoy clear and comfortable music playback and calls in noisy environments.