PaMu Slide Review: Great TWS Earphones and Recommend It
The pamu slide is a complete wireless earphone, which was funded by INDIEGOGO these days. I bought it a day of July, and it arrived in about 7 days. Tracking information will be e-mailed at the time of shipping, and it will be like shipping from Singapore if you check it from there. I don't remember buying a set with a case, but is it something extra? Ok, I will try to open it immediately.
The contents of the body are below:
Case with charge function.
Wireless earphone body
Six different earpieces of different sizes
USB cable (AC)
Multilingual manual
You can hold the case with one hand and slide it open with just your thumb.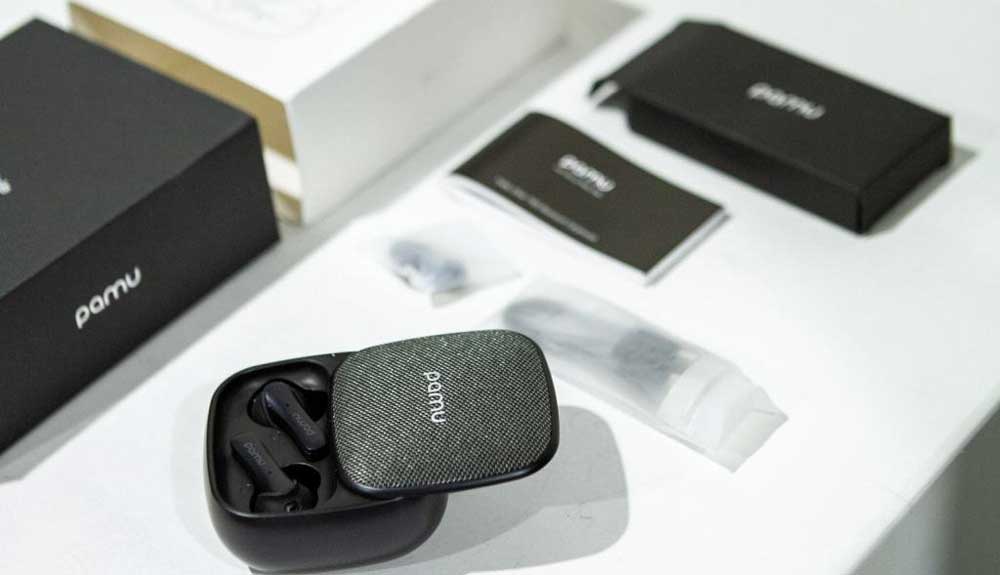 The manual has a proper Japanese language, and it is not an unusual Japanese. If you look at the manual, the formal model number seems to be T6.
The case itself can be purchased for US $ 15, because it is hard to crush, it seems to be useful enough as protection. Even if it rolls around, the contents are not likely to be broken.
This wireless in ear headphones can be charged by putting it in the case as well. The case has a built-in 2000mAh battery. Since the earphone itself is 85 mAh, it seems that it can be charged more than 11 times by simple calculation, but if you look at the site only 5 times are written and may something be different? ? 10 hours on one charge. It is written 60 hours because it can be charged 5 times.
In the image above, the four white LEDs indicate the battery level of the case itself. The red light on the earphones means charging.
The case has a Type-C connector and I can charge it, but I could not charge it from the USB-PD. I thought that 5V would come out even if PD doesn't correspond to the PD standard.
When I put the earphone in the case, it seems to be stuck with a magnet, and I can not shake it like this with the lid open.
This is the spec.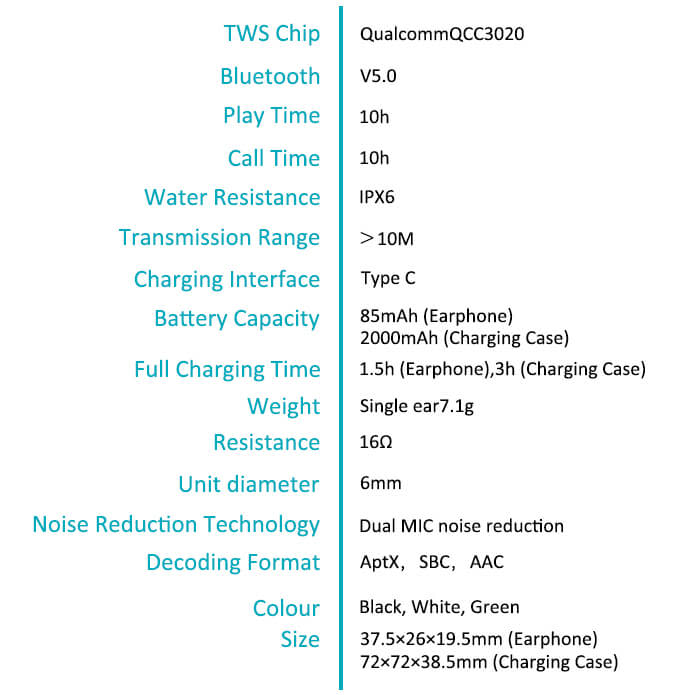 The sound quality is sufficient for me because it supports aptX / AAC.
I have a bad ear, but I can understand the difference between SBC and AAC / aptX. The difference between AAC and aptX is subtle. . .
I can not comment on it because there are people who feel shabby, sloppy and transparent in that.
It means that it can be used for 10 hours, so it can be used in a minute for one hour commuting one way, and can be charged if put in the case, so if it is used only for commuting, it will have a margin for one month It will be.
There is no problem with pairing at all. I was able to connect without problems with iPhone, Xperia or Mac, and once connected, it will be connected as soon as it is taken out of the case, and it will be disconnected when put in the case and it is comfortable itself.
I can not say anything because waterproofing has not been tried.
Oh, the design of the earphone itself is surprisingly refreshing.
It is my preference from the ear to the udon type than the type that the big round thing is attached to the ear.
I use it on the train at commuting and it is only one round trip, but it can be used without interruption once, so the stability of communication seems to be good for the moment. Is that because it is Bluetooth 5?
Also, there is no problem with operability.
I think that the reaction is not sluggish or sensitive and it is easy to use with a good impression.
Finally, it was the best seller
I thought this kind of completely wireless headphones would fall off and I was out of hand, but I did not feel totally lost trying to use them.
Rather, I was moved by the fact that the Bluetooth earphones, which had been connected only to the left and right that I had used until now, did not fit nicely and sometimes came off. By the way, I do not talk, so I do not understand the effect of noise reduction well.